Frontier Frostbite

James Bay Frontier Division
April 2000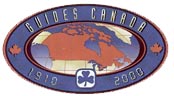 Another Guiding year is coming to a close and camping in on the minds of Guiders and girls. If you have any questions concerning camping with your unit or attending our Provincial Camp, Doe Lake, please ask your Division Camp Adviser or your Commissioner for advice. Camping should be a fun and an exciting experience for both girls and their leaders. If you ask a girl for her most memorable activity during the year most will say their camping trip. They love to help plan and prepare for camp. Don't be afraid to let them participate in all aspects of camp.
I would like to take this opportunity to thank all the Guiders in our Division who have given so generously of their time, wisdom and energy to our girls. We are making a difference with our youth members. Just look at the wonderful things they are accomplishing in their day to day lives. Without you this Division wouldn't be as great as it is.
Have a great summer and we'll meet again in the fall.

dcommish,Division Commissioner



---

page 2
page 3
page 4
page 5
page 6
page 7
page 8
page 9

---