Frontier Frostbite

James Bay Frontier Division
September 2000/7
Songs

The Guiding Law
I challenge myself with the Guiding Law
To be honest and true;
To be wise in the use of resources I have;
To respect myself and others, too,
To know and to use my gifts and skills;
To protect our common world;
Live with courage and strength
And to share in the joys
Of the Guiding Sisterhood.
La Loi Guide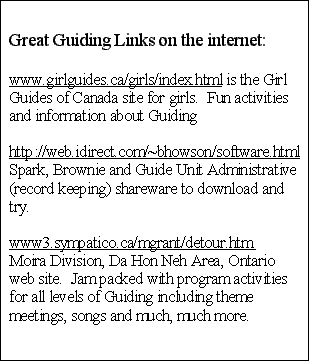 La Loi Guide m'invite d'être honnête,
Digne de confiance
D'utiliser mes ressources avec sagesse
Me respecter, respecter les autres
Connaître et utiliser mes talents
Protéger l'environnement
Etre forte et courageuse
Partager dans la joie
L'amitié de mes soeurs Guides.
These songs were forwarded by a Sparks Guider from Timmins.
Sparks Opening Song
(tune: Sing a Song of Sixpence)
Come along you Sparks into Rainbow Land
Gather round the Rainbow joining hand in hand
Smiling Sparks and Leaders happy to be here
Come along and dance and prance into Rainbow Land
Sparks Closing Song
(tune: Barney Song, I Love you)
I like you, you like me
We're all part of the Guiding family
We promise to share and be a friend,
Now our Sparks meeting comes to an end

---

page 1
page 2
page 3
page 4
page 5
page 6
page 8

---