Frontier Frostbite

James Bay Frontier Division
September 2000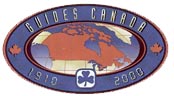 Exciting things will be happening within our Division over the next few months. Unit registrations will take place and we will see our girls returning to start another exciting year in their units and we will be able to meet new members who are excited to belong to this great organization.
Many of our members are looking forward to attending the Area Event at Doe Lake. The majority of our members who will be traveling will be going to this camp for the first time. With all the plans that have been made we should all have a great time. If you haven't signed up to go there may be still time for you to do so. Speak to your District Commissioner about registration forms and the deadline to register.
Our Training Team has been hard at work planning trainings for us. A First Aid training will be taking place in September and Focus on Guiding, one of the requirements for Stage 2, and Stage 3 are being planned. For more information check out our Training web site at http://jbft.tripod.com or contact our Division Training Adviser.
I hope you have all enjoyed your summer and are looking forward to another year in Guiding.

dcommish, Division Commissioner



---

page 2
page 3
page 4
page 5
page 6
page 7
page 8

---