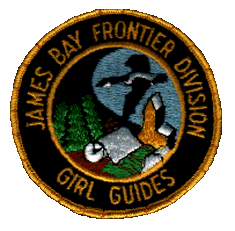 Upcoming Training Events in our Division
Here are a few of the trainings that we have planned for the future. Click on the link for more information.

James Bay Frontier Division Day "Fall Roundup"will be held at Northern College in South Porcupine, Saturday, October 13, 2001


Stage 3, Trillium - For Guiders who have completed Stage 2. We are trying to get a group together. Talk to the Division Training Adviser to let her know you are interested.